They look exactly like the common rice vermicelli, except for its softer, more fragile texture.
It may seem plain and tasteless looking coils of white rice noodles but do not underestimate this addictive delicacy. The Putu Mayong, sometimes also known as Putu Mayam, used to be sold by travelling vendors on pushcarts, and even bicycles in recent times.
The Putu Mayong's origin can be traced back to Southern India where it is also known as string hoppers.
This simple dish only consists of a few ingredients and though it used to be eaten at breakfasts, it is now mostly sold as snacks for afternoon tea or supper.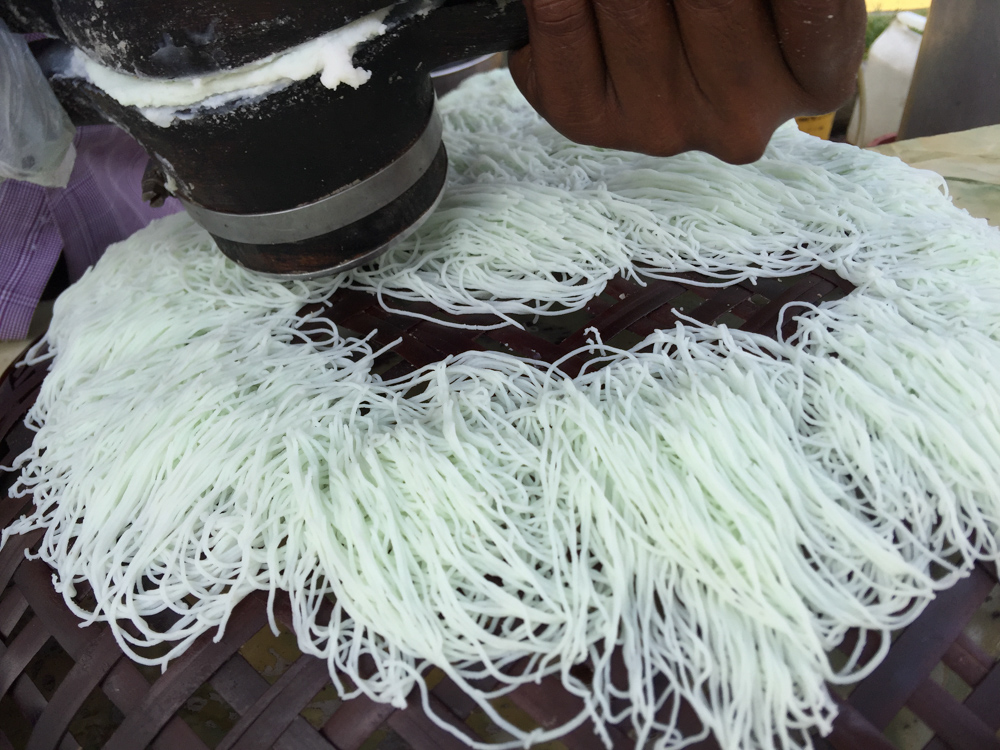 This dish only comprises mixture of corn flour and rice flour pressed into noodle form and then steamed on overturned stacks woven rattan trays, usually stacked three-tray high. The end result is fluffy, soft fine strings stacked together like tiny stringy white pancakes.
Putu Mayong are also comes in green colour. The green colour is from the screwpine (pandan) leaf and with that it gives some aroma to the Putu Mayong.
These delicate coils are served with brown sugar and shredded coconut with a hint of salt mixed in, making it both a sweet and savoury treat.
Interestingly, this particular cuisine is not unique to Malaysia as Putu Mayong is widely available in India, Indonesia and Singapore. In India, the steamed rice strings can be served with curry and other condiments unlike here, where it is mostly a dessert or teatime snack.
In Malaysia, Putu Mayong is usually enjoyed with a generous serving of rich, fragrant shredded coconut which is then balanced out by a serving of brown sugar or palm sugar.
A variation to the Putu Mayong is the Putu Piring and Mayong Buluh, which is made of almost the same ingredients but in a different shape and size.
The Putu Piring are shaped like a "piring" (saucer) and made of rice flour but it contains palm sugar inside it so it can be eaten as is without needing to dip it in sugar. Where else the Mayong Buluh is in the shape of a cylinder. Mayong Buluh is prepared by putting the ingredient into the bamboo to steam it.
There are variations of the Putu Piring in which some hawkers sell plain ones without sugar fillings while some are shaped like a ball instead of a saucer.
Like the Putu Mayong, it is also usually enjoyed topped with grated coconut to give it the extra rich flavour.
Since these are tea time or supper snacks, the Putu Mayong and Putu Piring or Mayong Buluh are sold as takeaways wrapped in newspapers with a layer of clear plastic.
Best eaten hot immediately after it's steamed, the Putu Mayong simply melt in your mouth. Mix up the coconut shreds and the brown sugar, wrap them in the putu mayong and enjoy.
Get a mouthful of these delicious snacks in George Town to try out,
Roadside stall @ Jalan Pasar, Pulau Tikus (5pm-9pm)
Roadside stall @ Jalan Datuk Keramat (3pm-9pm)
A bicycle stall @ Lorong Pasar, Little India (4pm-8pm)