This is a meal that pairs the fragrant rice cooked with yam with a sourish soup of pork and salted vegetables. The yam rice is fluffy and so tasty, you can eat it as it is. Add on a few dishes especially the salted vegetable soup that is bound to add some zest to the meal.
This yam rice with sourish soup dish are available mostly in the mainland side of Penang, particularly in Bukit Mertajam. There are also few places in Butterworth selling it. It is less common to find this yam rice and kiam chai pork sourish soup dish stall in Penang island. This dish is also known as BM (Bukit Mertajam) yam rice to the local. It is a Teochew dish and usually eaten for breakfast or lunch. 
A set of this Teochew yam rice and kiam chai pork sourish soup is consists of a bowl of Yam rice and Salted Vegetable Pork Soup. 
The yam rice is prepared with the yam, soy sauce, dark soy sauce and with dry shrimps. The yam is cut in small cube size to cook in. There will be some pieces of yam when served. It add on texture and flavour to the rice when eaten.
The sourish soup usually consists of pork slices, meatballs, pig blood in cube pieces, pork organs such as stomach, liver and intestine. It is all cooked together with salted preserved vegetable in a large pot. Usually the stall will use enamel pot to cooked the soup. This enamel pot is one important item for the established stalls. Usually this pot is past to the next generation as the old enamel pot will be able to give a better flavour to the soup compared with a new pot.
These stall does also offer Vinegar pork trotter and braised pork with tofu and egg as additional side dish. Some stalls will have fried tofu and vegetable with meat floss as side dish.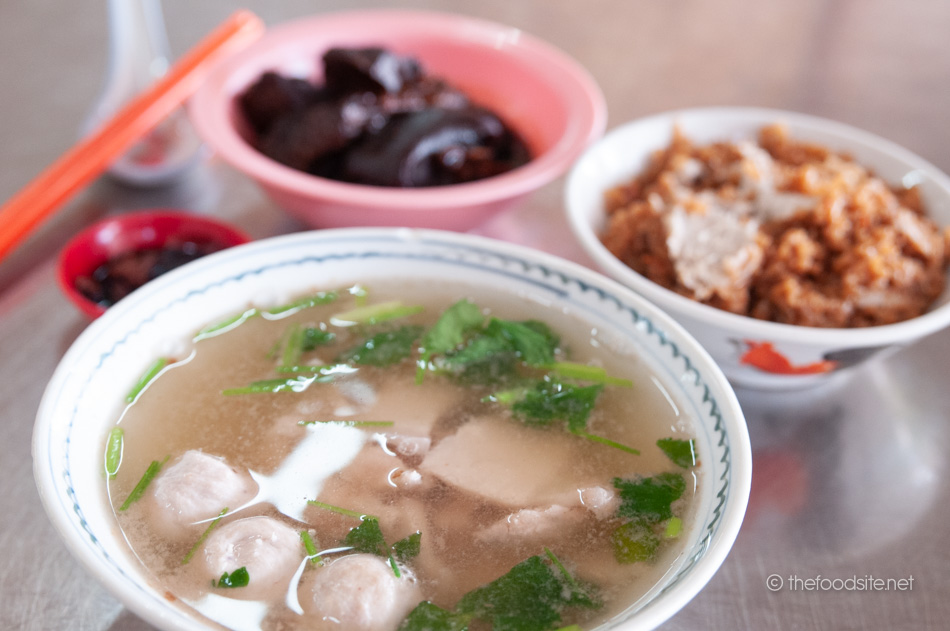 Not to miss out is the special chilli paste with thick black sauce. The chilli paste will add on some spiciness to the pork when taken with it.
Here are few stalls to try out in Penang,
Kedai Kopitiam Tan Win Huat 8888 @ Cantonment road (11am-9pm)
Simpang Ampat Yam Rice @ Medan Kampung Relau 1, Bayan Lepas (9am – 2:30pm)
Chip Heng @ Lebuh Kurau 1, Taman Chai Leng (9:30am – 4pm)
BM Yam Rice Koptiam @ Jalan Murthy, Bukit Mertajam (8am-3pm)