Soft and chewy, slightly sticky and covered in a generous medley of nutty flavours, this local delicacy is almost like the famous Japanese mochi and yet different. Imagine biting into the soft, sticky glutinous rice balls and getting a burst of sweet and salty flavours from the coating of sugar and ground peanuts.
Unlike the mochi, muar chee is eaten warm from the steamer so the hawker will deftly chop it up while coating the steamed glutinous rice flour in the peanut mixture within a few minutes.
It becomes sticky and a bit too cloying with the dry fine powdered peanut mixture turning into soggy clumps once it cools so it is best eaten immediately. To maintain moisture and freshness, muah chee is only made to order.
The glutinous rice flour is steamed plain and then chunks of it are roughly chopped up in a symphony of chopping motions before being rolled in a tray of mixed ground peanuts, sesame seeds and sugar.
As easy as this snack is to make, very few people actually make these at home, most preferring to seek it out at hawker stalls and night markets.
It may only contain a handful of ingredients but there are actually differences in how it tastes when bought at different stalls. The secret is in the ratio of ground peanuts and sugar coating so that it is not too sweet and yet is delicious enough
This is because the actual flavour of the snack is in the mix of finely ground peanuts, sesame seeds and sugar. The secret is in the ratio of ground peanuts and sugar coating so that it is not too sweet and yet is delicious enough and given a different dimension with the addition of slightly toasted sesame seeds.
Finally, the type and amount of sugar is the be-all and end-all to a well-balanced, deliciously warm, slightly sticky muar chee that tastes like chewy peanut butter or sticky glutinous rice that is not too sweet or too bland.
The tiny bite-size morsels, still warm and thickly covered in the fine mixture of nutty deliciousness, are then served on a small plastic or paper container and garnished with crunchy shallots.
Some stalls are known to sneak in three types of sugar to give it a three-dimensional sweetness from the aromatic, slightly bitter palm sugar to the gentle sweetness of light brown sugar and the sharp sweetness of plain white sugar.
The sweetness of the sugar mixture is then perfectly complemented by the salty, nutty taste of roasted peanuts and sesame seeds.
Topping this soft, warm chewy snack with the crunchy deep-fried shallots adds another dimension of texture to it, giving it some crunch while adding another flavour.
This can be eaten as a dessert but it is usually treated as an afternoon snack or an evening pre-dinner snack because it is quite feeling and may be too filling to be eaten after a full meal.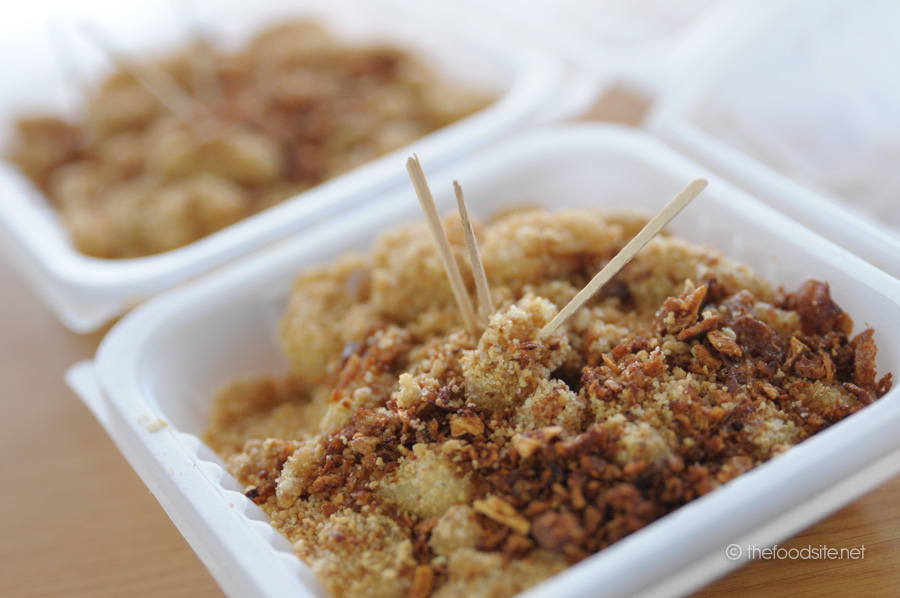 Muar chee can be found at all the night markets in Penang and it is also available at several hawker centres and coffee shops. The chewiness of the glutinous rice and the crunchiness of the toasted peanuts make muah chee a tasty and popular snack.
Here are places to try out this simple and satisfyingly delicious snack in George Town:
Cecil Street Market Hawker Centre @ Cecil Street (10am–3pm)
Roadside stall @ Lebuh Keng Kwee (1pm-6pm)