Nasi lemak is the quintessential Malaysian meal whether it is for breakfast, lunch, tea break, dinner or even supper. Any time is nasi lemak o'clock.
Nasi lemak bungkug is full of aroma from the coconut milk rice and taste, especially those who love spicy food.
There are many such stalls offering nasi lemak bungkus, you can find it at coffee shop, mamak stalls, food court and even stall by the roadside.
You can wolf this down any time of the day. Traditionally nasi lemak bungkus is pre-packed rice cooked in coconut milk wrapped in banana leaf, the coconut milk-infused rice is eaten with sambal, fried ikan bilis (anchovies), hard-boiled egg, peanuts. Some comes with small fried fish or sooting (squid). It is wrapped in banana leaves to give it a special fragrance.
Each stalls sambal may not taste the same as everyone has their own fiery recipe. Sambal in individual state is also different with their own recipe and way of preparing.
In Penang, there is a Nyonya nasi lemak which the nasi lemak usually served with assam fried fish, assam prawns and sambal belacan. Nyonya peranakan love to add creamy coconut milk to their rice and the belacan (shrimp paste) is added to the sambal.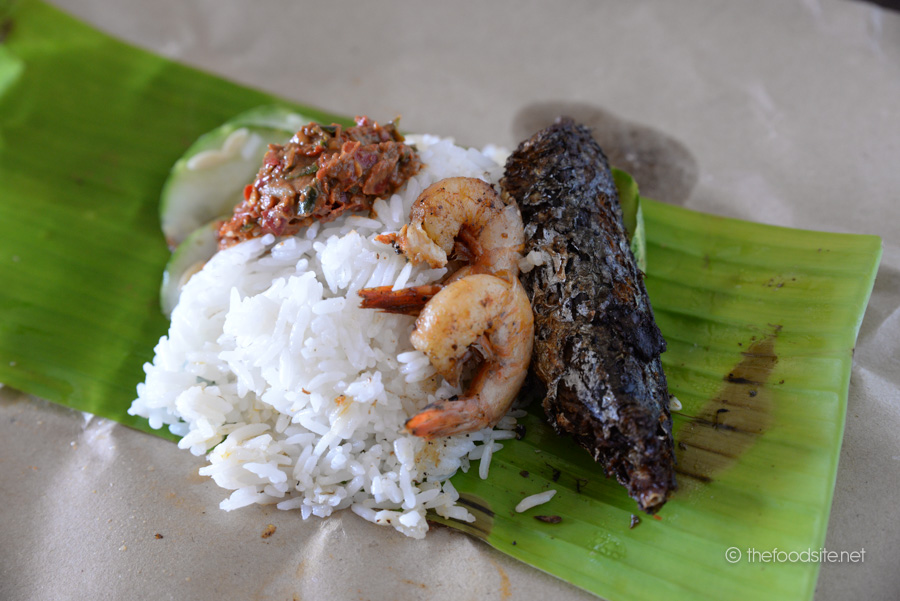 This fast and hearty culinary with its wallet-friendly price has been fuelling Malaysian.
Remember to pair the nasi lemak with a steaming, frothy cup of teh tarik. One of the best way to enjoy a pack of nasi lemak.
Here are few places in the George Town that sells nasi lemak bungkus for you to try on.
Ali nasi lemak daun pisang @ Sri Weld food court (7am-3pm)
Mamak stall @ Penang Street (7am – 1pm)
Transfer road roti bakar @ Transfer road (7am-3pm)
Mamak stall @ Lorong Pasar (8am-6pm)