A chopstick-full of or chien (literally means oyster fried in Hokkien) is a chopstick-full of delicious textures and flavours. Fried oyster omelette, also known as or chien by the local is a culinary among the list of popular street foods in Penang.
The oyster omelette is no ordinary omelette and in Penang, it comes in many different styles; some starchy and some crispy.
Believed to be originally from Taiwan, the oyster omelette is pretty common there and over here, it is one of the must-try hawker food in Penang.
The makings of an oyster omelette consists of only a few ingredients: eggs, some corn starch and oysters, but despite how simple it seems, it is not that easy to make a good oyster omelette.
There is the salty taste of the juicy, succulent oysters and the accompanying starchy egg base which rounds it up pretty well.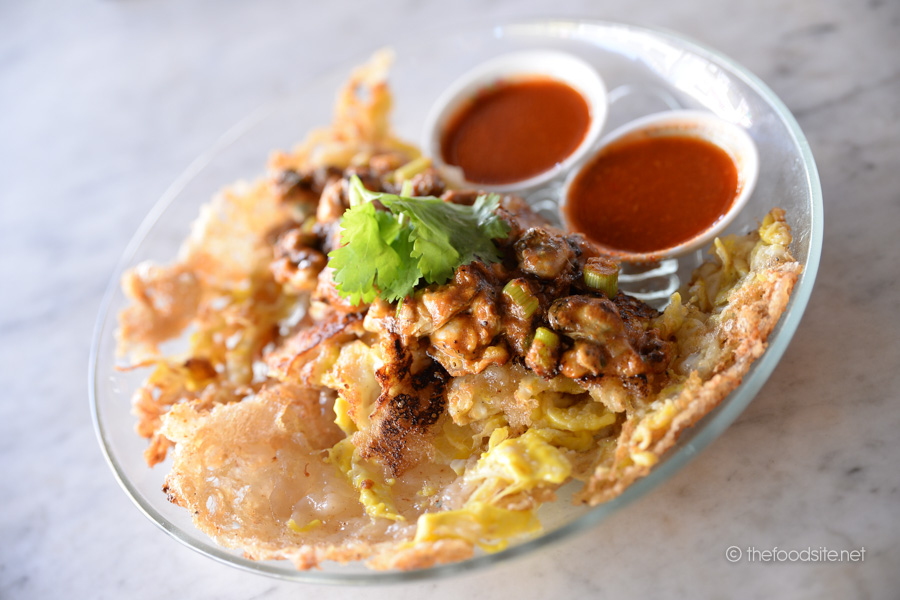 The best way to fully enjoy it is of course to dip it in some home-made garlic chili sauce.
Watching a hawker stir up a plate of or chien is a rather mesmerizing experience as the hawker whisks the egg with a mixture of sauces and cornstarch and in one smooth move, pours it onto the wide pan already warmed and slathered with oil or lard.
The egg mixture is left to cook for a while before the oysters go in and just as the eggs are getting cooked through, he scrambles them with the oysters and then throws in some chopped spring onions. Once the mixture is cooked to his liking, it will be plonked onto a plate, garnished with chopped parsley and served with a garlic chili sauce on the side.
The way of cooking the or chien is vastly different from one hawker to another, thus each stall offers up rather different tastes and textures of the same food.
This is why some or chien is particularly starchy and sticky because the hawker uses more cornstarch while some are soft and runny where the eggs were not left to be fully cooked through.
However, every single stall here serves the or chien with some chili sauce, or garlic chili sauce..
Get your fix of some great-tasting or chien in George Town at these stalls:
Seng Thor Coffee Shop @ Carnavon Street (2pm–5pm)
Heng Huat cafe @ 156, 108 Lorong Selamat (10am-5:30pm)
Oyster stall @ New Lane (5pm-11pm)