A popular local delight with chunks of marinated dice-sized meats glided into skewers and grilled over a charcoal flame. As a sure sign indicator, if there is wispy smoke, you're heading towards a satay stall.
It's nothing fancy, just bite-sized pieces of meat marinated in a mixture of spices and seasoning, skewered on bamboo sticks and then grilled over charcoal fire.
The fat from the skewered meat will be dripping and sizzling in the fire and a strong smoky aroma with a hint of spices and cooked meat is enough to make anyone salivate.
The skewers of grilled meat, tender and hot from the grill, are then served with a spicy, nutty sauce along with slices of cucumber and onions. Dipping the skewers of meat into the sauce you get spicy, sweet and rich flavours balanced out by the fresh clean taste of the cucumbers and onions.
This is satay — a Southeast Asian dish that is popular in Indonesia, Thailand, Malaysia and Singapore though its origin is hard to determine.
In Malaysia, it is a very common hawker fare available mostly at night markets, at roadside hawker stalls, at hawker complexes, even at upscale restaurants, cafés and hotels.
The secret behind good satay is in the marinade so every satay stall you encounter offers a different interpretation of satay even though the basic ingredients are the same.
Some are merely marinated in turmeric powder, some sauces and chili powder before grilling and is dependant on the accompanying peanut sauce to give it the extra "oomph" of deliciousness.
There are stalls that take it a step further to add more sauces to the marinade, even the peanut sauce, so that the skewers of grilled meat are not only tender but juicy and rich with flavours from a powerful special blend of marinade. These are the kinds of satay that you can eat stick after stick without needing to dip into any sauce as they are good on its own.
Satays are traditionally grilled on the spot over charcoal fire so the slivers of meat usually have caramelised burnt bits that add to the whole smoky flavour.
Satay would not be the traditional satay that everyone loves if it is all evenly browned and cooked without even a tiny hint of char.
The meat used is usually chicken and sometimes beef and mutton. Chinese hawkers also sell pork satay, although this has become not as popular as the chicken satay. The meats used for satay can also come from many animals from the conventional chicken and beef, wild boar, rabbit and even fish, though the last two types of meat are quite rare.
One stick of satay is never enough so usually they are sold by the half dozen, dozen or in tens.
A plate of satay usually comes with an accompanying peanut sauce — made from sweet soy sauce, roasted ground peanuts, palm sugar and other spices — cucumber slices, onions and some are also served with nasi himpit (boiled compressed rice).
The best way to eat satay is to dip it in the sauce, take a bite, skewer a slice of cucumber, onion and a cube of nasi himpit, dip it in sauce again and take another bite to enjoy the smoky flavours of the meat, the fresh bites of cucumber and onion and the richness of the sauce all in one mouthful.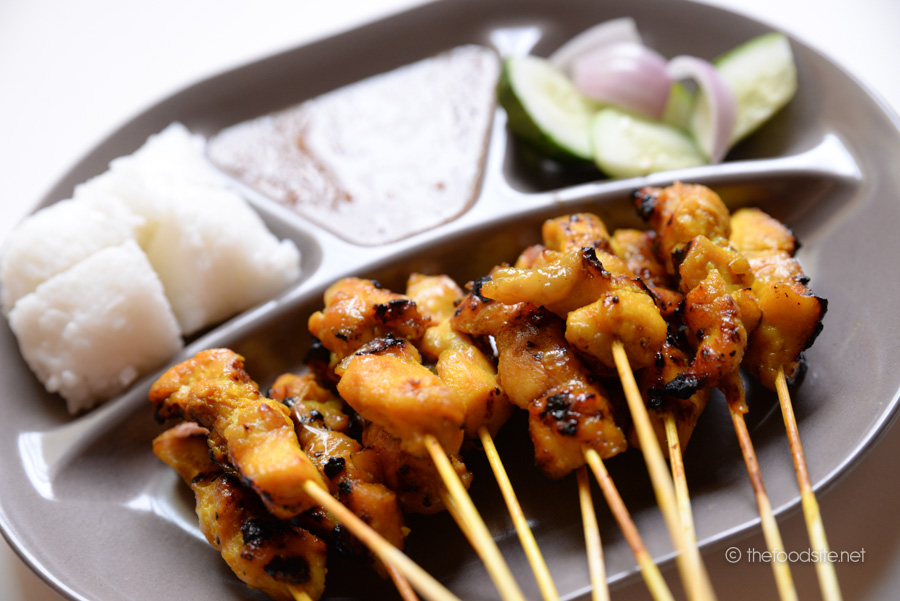 Try out some of the satay stalls in George Town:
Roadside stall @ Lebuh Chulia (6pm-11pm)
Stalls @ Medan Renong, Jalan Tun Syed Sheh Barakbah, Esplanade (5pm – 11pm)
Red Garden @ Leith Street (5pm-11pm)